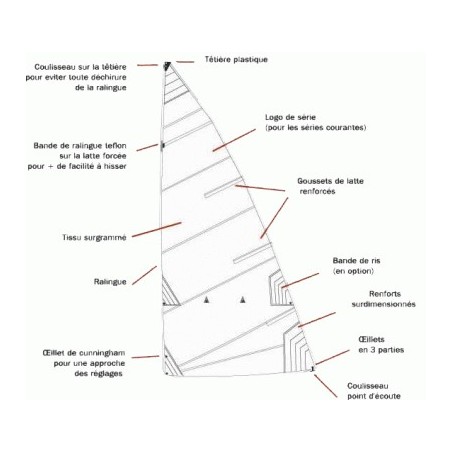  
Main sail 420 school
Product reference: NE2003
Available in 4-6 days
Frais de port : 6,52€
Mainsail School for dinghy 420

€585.05

By buying this product you can collect up to 48 point points. Your cart will total 48 points that can be converted into a voucher of €9.60.
Returns and exchanges within 45 days*
Free delivery from 99€ of purchase
And from €6.52 worldwide **
100% secure payment
CHARACTERISTICS
Fabric surgrammé

Slider on the tétière to avoid any tear of the headline

Band of teflon on laths forced to ease into headline

Point multiple listening for a better control of the sail

Latte gusset reinforced

Tétière plastic

Reinforcements surdimentionnés

Listening point slider

Gebrehiwot for grommet settings approach

Logo of series (for current series)
Sailing delivered without bag, or latte
This veil is the designated series dockable. It is designed and carried out in our workshops following the advice provided by intensive users.
Possibility of one or more width colour on request, for a tracking facilitated on the water
Select
Price: low-to-high
Price: high-to-low
Product: In-stock
Image
Combination name
Reference
Price
Quantity
# NE2003

Available

Available in 4-6 days

# NE2003

Available

Available in 4-6 days

# NE2003

Available

Available in 4-6 days

# NE2003

Available

Available in 4-6 days

# NE2003

Available

Available in 4-6 days

# NE2003

Available

Available in 4-6 days

# NE2003

Available

Available in 4-6 days

# NE2003

Available

Available in 4-6 days

# NE2003

Available

Available in 4-6 days

# NE2003

Available

Available in 4-6 days

# NE2003

Available

Available in 4-6 days

# NE2003

Available

Available in 4-6 days

# NE2003

Available

Available in 4-6 days

# NE2003

Available

Available in 4-6 days

# NE2003

Available

Available in 4-6 days

# NE2003

Available

Available in 4-6 days

# NE2003

Available

Available in 4-6 days

# NE2003

Available

Available in 4-6 days

# NE2003

Available

Available in 4-6 days

# NE2003

Available

Available in 4-6 days

# NE2003

Available

Available in 4-6 days

# NE2003

Available

Available in 4-6 days

# NE2003

Available

Available in 4-6 days

# NE2003

Available

Available in 4-6 days

# NE2003

Available

Available in 4-6 days

# NE2003

Available

Available in 4-6 days

# NE2003

Available

Available in 4-6 days

# NE2003

Available

Available in 4-6 days

# NE2003

Available

Available in 4-6 days

# NE2003

Available

Available in 4-6 days

# NE2003

Available

Available in 4-6 days

# NE2003

Available

Available in 4-6 days

# NE2003

Available

Available in 4-6 days

# NE2003

Available

Available in 4-6 days

# NE2003

Available

Available in 4-6 days

# NE2003

Available

Available in 4-6 days

# NE2003

Available

Available in 4-6 days

# NE2003

Available

Available in 4-6 days

# NE2003

Available

Available in 4-6 days

# NE2003

Available

Available in 4-6 days

# NE2003

Available

Available in 4-6 days

# NE2003

Available

Available in 4-6 days

# NE2003

Available

Available in 4-6 days

# NE2003

Available

Available in 4-6 days

# NE2003

Available

Available in 4-6 days

# NE2003

Available

Available in 4-6 days

# NE2003

Available

Available in 4-6 days

# NE2003

Available

Available in 4-6 days

# NE2003

Available

Available in 4-6 days

# NE2003

Available

Available in 4-6 days

# NE2003

Available

Available in 4-6 days

# NE2003

Available

Available in 4-6 days

# NE2003

Available

Available in 4-6 days

# NE2003

Available

Available in 4-6 days

# NE2003

Available

Available in 4-6 days

# NE2003

Available

Available in 4-6 days