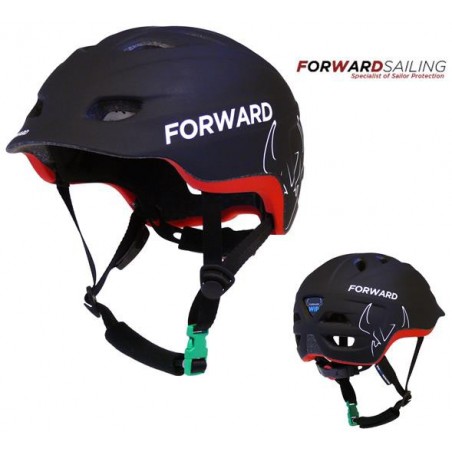  
Sailing Helmet
Product reference: FW-ACCA100000-NR
Stock available, Ship with in 3/5 days
Frais de port : 6,52€
Sailing Helmet Forward WIP used by Loick Peyron Energy Team on the Catamarans AC 45 team when the AC World Series
• This helmet is equipped with a quick-release buckle that opens automatically after a force of more than 6kg is applied.
This enables its quick removal if you are trapped in a strangling position for example
• In mold construction: thin and very light
€71.92

By buying this product you can collect up to 5 point points. Your cart will total 5 points that can be converted into a voucher of €1.00.
Returns and exchanges within 45 days*
Free delivery from 99€ of purchase
And from €6.52 worldwide **
100% secure payment
Forward WIP Helmet
Official helmet of the team Energy Team of brothers Peyron at the 45 World Series AC
Modern vessels such as sports catamarans and keelboats other scenarios will more quickly and can cause trauma important for strong deceleration and reversal when there is a recall or worse from the trapezium.
The helmet became mandatory on the AC45, and it is more and more used in sailing school and sailing sports.
By studying the evolution in other sports such as skiing, horseback riding and cycling, it is betting that the helmet becomes increasingly more used in the field of sailing with the risk of falls, shocks against the excesses and many on the boom.
Helmet of sailing in-mould technology where a thin polycarbonate shell is co-injectée with foam polystyrene.
All behaves in a composite shell extremely light and let to absorb shocksviolent.
This helmet is well ventilated, presents a small visor and is equipped with a system for adjusting size with wheel for comfort and perfect dress.
• Adjustable size thanks to the fit-system - for good comfort
• Size fit's all 54-60cm
• Thermoformed foam for better comfort, each helmet is delivered with a set of thicker foam for a better fit on smaller heads
• Many openings for good ventilation
• Weight: less than 300g
Select
Price: low-to-high
Price: high-to-low
Product: In-stock