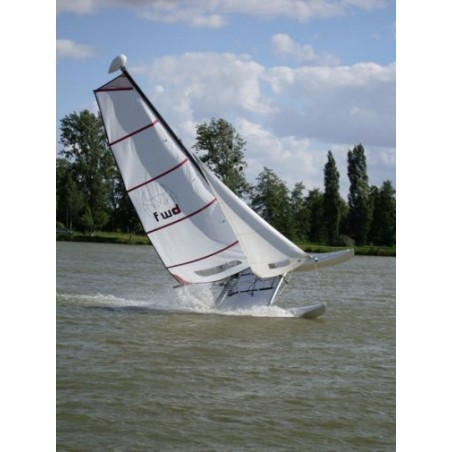  
Jib for Hobie Cat 14 - FORWARD SAILING - FW-FOHB141000

Product reference: FW-FOHB141000
Delivery in 5 to 6 days
Frais de port : 6,52€
Jib for 14' cats
Non battened jib compatible for Hobie Cat 14
Made in white Dacron with red finishings
Stainless steel cable in the luff
€229.99

By buying this product you can collect up to 19 point points. Your cart will total 19 points that can be converted into a voucher of €3.80.
Returns and exchanges within 45 days*
Free delivery from 99€ of purchase
And from €6.52 worldwide **
100% secure payment
Jib for catamaran Hobie Cat 14
-Jib not battened
-Fabric Dacron 220 g for a robust sail
-2 penons
-Window mono film to better control the water in the wind
-Beautiful finish with zip on any edge.
-Ideal for booster the cata and facilitate transfers.

Turbo HB 14 reality of origin were the failure not to withdraw easily from the boat (the jib is not broken because it is supportive of the forestay) which leads to wear fast if one is not using a sock of protection.

It is now possible, thanks to the jib HB14 FWD closure clarifies hoist, mount and unmount the jib on a standard HB 14 or on a HB 14 Turbo-equipped. The solution in this case is to the former foc to retrieve the forestay. He then just back this was on the cata, and then rig the jib in the zippant around the forestay. to do this you will need to install a small jib halyard to simply pass in the œ illet located at the top of the forestay (or in the Manila from capelage). The halyard is then back into the sheath to the gunindant Zip and stuck down on the jib, with a Clam Cleat stop.