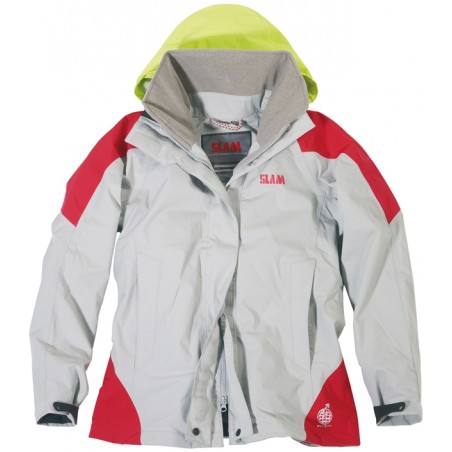  
Quarter women SLAM Racing Jacket Woman jacket
Product reference: S970001
Stock available, Ship with in 3/5 days
Frais de port : 6,52€
Quarter woman Racing Jacket of SLAM jacket
RACING JACKET, characterized by its form indented to better adapt to the feminine forms of the plaisancières, is recommended for coastal navigation.
€139.46

By buying this product you can collect up to 11 point points. Your cart will total 11 points that can be converted into a voucher of €2.20.
Returns and exchanges within 45 days*
Free delivery from 99€ of purchase
And from €6.52 worldwide **
100% secure payment
CHARACTERISTICS
Ref: S970001S00
Quarter women SLAM Racing Jacket Woman jacket
•Capuche into the adjustable collar with one hand. Thermo-collés tapes internally on the seams. Reflexite reflective bands at the centre.
•Col stuffed in microfleece. At the top, at the neck, flap covering the zip slider. Dual-channel internal for drainage.
•Double closure on cuffs. Interior PVC knitting with velcro adjustment. Outerwear with flap ergonomic PVC double adjustable velcro.
•BAS with adjustable elastic slide on the front, in the back, elastic Ribbon with silicone to provide good adhesion including movement.
•Zip pocket water repellent. Tire-zip protected for a better waterproofness.
•Logo SLAM cut laser applied hot.
-Rolled •poches.
Inner •Poche for mobile phone with Awex lining: very fine son of silver mesh that protects the body of electromagnetic waves of the phone
Ergonomic hood into the adjustable collar with one hand.

Neon yellow color to be more visible.
Collar lined in fleece 420 g. Protection with flap collar doubled in micro fleece.
Front opening with zip YKK double cursor.
Frontal opening with double flap to protect from water seepage, velcro closure.

Triangle in PU /Tricot elastic near the pass closure to provide comfort.
Bottom with adjustable elastic slide and Ribbon gritting to provide good adhesion.
PU inner wrist / elastic knitting. Double closure with flap PVC cut laser and velcro.
Size adjustable by elastic slide inside thePocket.
Pocket lined in fleece warm and ultra light.
Whistle of relief in the Pocket.
Inner pocket for mobile phone.
Armhole seams and elbows with ergonomic cut for a major freedom of movement.

Waterproof 15000mm

Breathing 4000gm/m²/24 h
Select
Price: low-to-high
Price: high-to-low
Product: In-stock
Image
Combination name
Reference
Price
Quantity
# S970001

Available

Stock available, Ship with in 3/5 days

# S970001

Available

Stock available, Ship with in 3/5 days

# S970001

Available

Stock available, Ship with in 3/5 days

# S970001

Available

Stock available, Ship with in 3/5 days

# S970001

Available

Stock available, Ship with in 3/5 days

# S970001

Available

Stock available, Ship with in 3/5 days

# S970001

Available

Stock available, Ship with in 3/5 days

# S970001

Available

Stock available, Ship with in 3/5 days

# S970001

Available

Stock available, Ship with in 3/5 days

# S970001

Available

Stock available, Ship with in 3/5 days

# S970001

Available

Stock available, Ship with in 3/5 days

# S970001

Available

Stock available, Ship with in 3/5 days