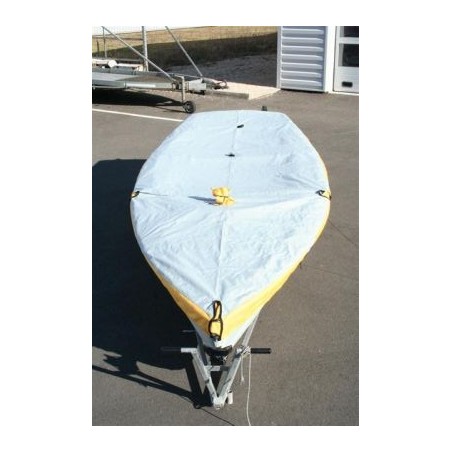  
485 Taud Dessus - NENUPHAR - NE20239
Product reference: NE20239
Stock Available, Delivered within 5 to 10 days
Frais de port : 6,52€
Parking and wintering awningthe ideal solution to protect the fittings of his boat from the harmful rays of the Sun, of the action of sea salt and weather in General. It is also a very good solution for your hardware from the malicious eyes.
€283.08

By buying this product you can collect up to 23 point points. Your cart will total 23 points that can be converted into a voucher of €4.60.
Returns and exchanges within 45 days*
Free delivery from 99€ of purchase
And from €6.52 worldwide **
100% secure payment
Well studied the use and the wear and tear of the awnings to design an ideal product.
Your boat is better protected and the canopy has a better shelf life.
Cup:We have chosen a cut not too tight to facilitate its implementation. The adjustment occurs then by sliding ties in the front and the rear of the canopy.
Each awning is equipped with 4 straps d(e) implementation voltage to ensure its resistance to the wind.
Installation:the canopy of 470 moved by the front of the boat.

1 Fix the boom to the mast and tender the halbas.

IMPORTANT, the boom must rest on the bottom of the boat.

2 Set the canopy to the mast with the strap.

3 Position the awning on the boat starting from the front.


4 Set up the drainage hose.

5 Set the canopy using 4 straps under the boat and the side straps.

5 Adjust thanks to the links front and rear.

 Development time: 5 Minutes
Materials:We use a fabric high strength Polyester 900 denier, treated anti UV with internal reinforcement plastic waterproof. As is often the seams age before the fabric, we use a larger diameter with sewing zigzag 6 points wire.
Evacuation of water:We observed that premature wear of the awnings is often caused by the accumulation of rainwater puddles forcing on the fabric.
We have created and patented an innovative system of water discharge: the"Water channel".
Thus the water that accumulates on the awning at the back of the boat is evacuated through a grid connected to a handle water that passes by the rear hatch of the vessel.
Delivery:The canopies are packagedcardboard.
Fastening systems:Closures clips, scratches and pressure + 4 slings underneath the boat.
Select
Price: low-to-high
Price: high-to-low
Product: In-stock
Image
Combination name
Reference
Price
Quantity

Material : Acrylique marin 315g/m²

# NE20114

Available

Stock Available, Delivered within 5 to 10 days

Material : Polester RipStop enduit PU 270g/m²

# NE20239

Available

Stock Available, Delivered within 5 to 10 days

Material : Polyester enduit PVC 520g/m²

# NE20239PVC

Available

Stock Available, Delivered within 5 to 10 days