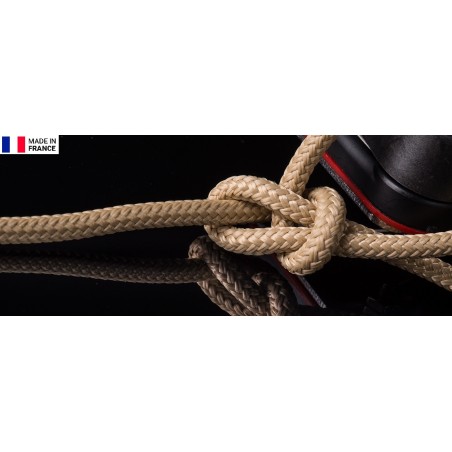  
Rope Braidline Cousin Trestec

Product reference: CT961-6-W
Stock available, Ship with in 3/5 days
Frais de port : 6,52€
Ø6 to 32mm - Universal polyester double braid, usable everywhere on a pleasure boat
Sold per m - The natural color is very aesthetic for an old rig.
Current promotion: -15% from 30m ordered on stocked colors, contact us to find out the colors concerned
€0.96

No reward points for this product.
Returns and exchanges within 45 days*
Free delivery from 99€ of purchase
And from €6.52 worldwide **
100% secure payment
The Braidline is the ultimate all-round rope. This line is flexible and resistant, which allows to use it anywhere on a pleasure boat: halyard, sheet, downhaul, reef line
The 8 colors allow you to differentiate each ropes. The natural color, close to the color of light woods and hemp, gives an old look very popular on old rigs or classic boats. A very pleasant touch, a very appreciated softness.
Thanks to its double braid construction, it is easy to make splices. You will thus benefit from 100% of its breaking load and you will limit knot raging.
Points forts :
Very supple, it is comfortable to handle
Good UV and abrasion resistance
Low cost
Easy splicing
Utilisation :
Cruising - Sheets, halyard,downhauls,uphauls..... 
Construction :
Core:  16 plaits braided of polyester.
Cover : 16 plaits braided of polyester.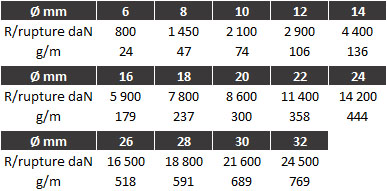 Made in France
Colors :







            

             
Select
Price: low-to-high
Price: high-to-low
Product: In-stock
Image
Combination name
Reference
Price
Quantity
# CT961-6-W

In stock

Available

# CT961-6-B

Available

Stock available, Ship with in 3/5 days

# CT961-6-N

In stock

Available

# CT961-6-G

Available

Stock available, Ship with in 3/5 days

# CT961-6-BG

In stock

Available

# CT961-6-BLK

Available

Stock available, Ship with in 3/5 days

# CT961-6-R

In stock

Available

# CT961-6-V

Available

Stock available, Ship with in 3/5 days

# CT961-6-WB

In stock

Available

# CT961-6-WR

Available

Stock available, Ship with in 3/5 days

# CT961-6-WV

Available

Stock available, Ship with in 3/5 days

# CT961-6-WY

In stock

Available

# CT961-8-W

In stock

Available

# CT961-8-B

In stock

Available

# CT961-8-N

In stock

Available

# CT961-8-G

In stock

Available

# CT961-8-BG

In stock

Available

# CT961-8-BLK

Available

Stock available, Ship with in 3/5 days

# CT961-8-R

In stock

Available

# CT961-8-V

Available

Stock available, Ship with in 3/5 days

# CT961-8-WB

Available

Stock available, Ship with in 3/5 days

# CT961-8-WR

Available

Stock available, Ship with in 3/5 days

# CT961-8-WV

In stock

Available

# CT961-8-WY

Available

Stock available, Ship with in 3/5 days

# CT961-12-W

In stock

Available

# CT961-12-B

In stock

Available

# CT961-12-N

In stock

Available

# CT961-12-G

In stock

Available

# CT961-12-BG

In stock

Available

# CT961-12-BLK

In stock

Available

# CT961-12-R

In stock

Available

# CT961-12-V

Available

Stock available, Ship with in 3/5 days

# CT961-12-WB

Available

Stock available, Ship with in 3/5 days

# CT961-12-WR

In stock

Available

# CT961-12-WV

Available

Stock available, Ship with in 3/5 days

# CT961-12-WY

Available

Stock available, Ship with in 3/5 days

# CT961-14-W

Available

Stock available, Ship with in 3/5 days

# CT961-14-B

Available

Stock available, Ship with in 3/5 days

# CT961-14-N

Available

Stock available, Ship with in 3/5 days

# CT961-14-G

In stock

Available

# CT961-14-BG

Available

Stock available, Ship with in 3/5 days

# CT961-14-BLK

Available

Stock available, Ship with in 3/5 days

# CT961-14-R

Available

Stock available, Ship with in 3/5 days

# CT961-14-V

In stock

Available

# CT961-14-WB

Available

Stock available, Ship with in 3/5 days

# CT961-14-WR

In stock

Available

# CT961-14-WV

Available

Stock available, Ship with in 3/5 days

# CT961-14-WY

Available

Stock available, Ship with in 3/5 days

# CT961-16-W

Available

Stock available, Ship with in 3/5 days

# CT961-16-B

Available

Stock available, Ship with in 3/5 days

# CT961-16-N

Available

Stock available, Ship with in 3/5 days

# CT961-16-G

Available

Stock available, Ship with in 3/5 days

# CT961-16-BG

Available

Stock available, Ship with in 3/5 days

# CT961-16-BLK

Available

Stock available, Ship with in 3/5 days

# CT961-16-R

Available

Stock available, Ship with in 3/5 days

# CT961-16-V

Available

Stock available, Ship with in 3/5 days

# CT961-16-WB

Available

Stock available, Ship with in 3/5 days

# CT961-16-WR

In stock

Available

# CT961-16-WV

Available

Stock available, Ship with in 3/5 days

# CT961-16-WY

Available

Stock available, Ship with in 3/5 days

# CT961-18-W

Available

Stock available, Ship with in 3/5 days

# CT961-18-B

Available

Stock available, Ship with in 3/5 days

# CT961-18-N

Available

Stock available, Ship with in 3/5 days

# CT961-18-G

Available

Stock available, Ship with in 3/5 days

# CT961-18-BG

In stock

Available

# CT961-18-BLK

Available

Stock available, Ship with in 3/5 days

# CT961-18-R

Available

Stock available, Ship with in 3/5 days

# CT961-18-V

Available

Stock available, Ship with in 3/5 days

# CT961-18-WB

Available

Stock available, Ship with in 3/5 days

# CT961-18-WR

Available

Stock available, Ship with in 3/5 days

# CT961-18-WV

Available

Stock available, Ship with in 3/5 days

# CT961-18-WY

Available

Stock available, Ship with in 3/5 days

# CT961-20-W

Available

Stock available, Ship with in 3/5 days

# CT961-20-B

Available

Stock available, Ship with in 3/5 days

# CT961-20-N

Available

Stock available, Ship with in 3/5 days

# CT961-20-G

Available

Stock available, Ship with in 3/5 days

# CT961-20-BG

Available

Stock available, Ship with in 3/5 days

# CT961-20-BLK

Available

Stock available, Ship with in 3/5 days

# CT961-20-R

Available

Stock available, Ship with in 3/5 days

# CT961-20-V

Available

Stock available, Ship with in 3/5 days

# CT961-20-WB

Available

Stock available, Ship with in 3/5 days

# CT961-20-WR

Available

Stock available, Ship with in 3/5 days

# CT961-20-WV

Available

Stock available, Ship with in 3/5 days

# CT961-20-WY

Available

Stock available, Ship with in 3/5 days

# CT961-22-W

Available

Stock available, Ship with in 3/5 days

# CT961-22-B

Available

Stock available, Ship with in 3/5 days

# CT961-22-N

Available

Stock available, Ship with in 3/5 days

# CT961-22-G

Available

Stock available, Ship with in 3/5 days

# CT961-22-BG

Available

Stock available, Ship with in 3/5 days

# CT961-22-BLK

Available

Stock available, Ship with in 3/5 days

# CT961-22-R

Available

Stock available, Ship with in 3/5 days

# CT961-22-V

Available

Stock available, Ship with in 3/5 days

# CT961-22-WB

Available

Stock available, Ship with in 3/5 days

# CT961-22-WR

Available

Stock available, Ship with in 3/5 days

# CT961-22-WV

Available

Stock available, Ship with in 3/5 days

# CT961-22-WY

Available

Stock available, Ship with in 3/5 days

# CT961-24-W

Available

Stock available, Ship with in 3/5 days

# CT961-24-B

Available

Stock available, Ship with in 3/5 days

# CT961-24-N

Available

Stock available, Ship with in 3/5 days

# CT961-24-G

Available

Stock available, Ship with in 3/5 days

# CT961-24-BG

Available

Stock available, Ship with in 3/5 days

# CT961-24-BLK

Available

Stock available, Ship with in 3/5 days

# CT961-24-R

Available

Stock available, Ship with in 3/5 days

# CT961-24-V

Available

Stock available, Ship with in 3/5 days

# CT961-24-WB

Available

Stock available, Ship with in 3/5 days

# CT961-24-WR

Available

Stock available, Ship with in 3/5 days

# CT961-24-WV

Available

Stock available, Ship with in 3/5 days

# CT961-24-WY

Available

Stock available, Ship with in 3/5 days

# CT961-10-W

In stock

Available

# CT961-10-B

In stock

Available

# CT961-10-N

In stock

Available

# CT961-10-G

In stock

Available

# CT961-10-BG

Available

Stock available, Ship with in 3/5 days

# CT961-10-BLK

In stock

Available

# CT961-10-R

In stock

Available

# CT961-10-V

Available

Stock available, Ship with in 3/5 days

# CT961-10-WB

Available

Stock available, Ship with in 3/5 days

# CT961-10-WR

In stock

Available

# CT961-10-WV

Available

Stock available, Ship with in 3/5 days

# CT961-10-WY

Available

Stock available, Ship with in 3/5 days

# CT961-26-W

Available

Stock available, Ship with in 3/5 days

# CT961-26-B

Available

Stock available, Ship with in 3/5 days

# CT961-26-N

Available

Stock available, Ship with in 3/5 days

# CT961-26-G

Available

Stock available, Ship with in 3/5 days

# CT961-26-BG

Available

Stock available, Ship with in 3/5 days

# CT961-26-BLK

Available

Stock available, Ship with in 3/5 days

# CT961-26-R

Available

Stock available, Ship with in 3/5 days

# CT961-26-V

Available

Stock available, Ship with in 3/5 days

# CT961-26-WB

Available

Stock available, Ship with in 3/5 days

# CT961-26-WR

Available

Stock available, Ship with in 3/5 days

# CT961-26-WV

Available

Stock available, Ship with in 3/5 days

# CT961-26-WY

Available

Stock available, Ship with in 3/5 days