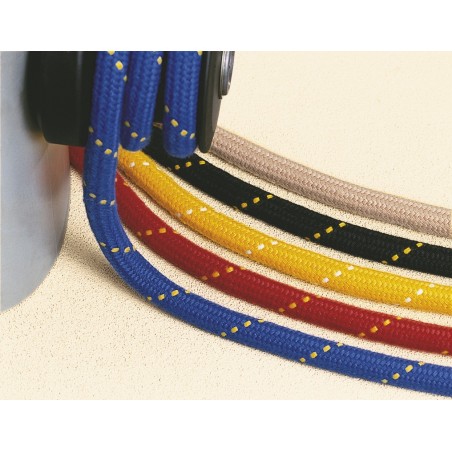  
Cotton feel polyester sheet MATT 32

Product reference: MATT32
Available
Frais de port : 6,52€
Ø6 à 16mm -  A good  cotton feel polyester double braided sheet. 
5 colors: black, yellow, red, blue, natural
€0.70

No reward points for this product.
Returns and exchanges within 45 days*
Free delivery from 99€ of purchase
And from €6.52 worldwide **
100% secure payment
Cordage très souple avec une texture très agréable en main, idéale en tant qu'écoute. Ce cordage offre un grand confort d'utilisation et une excellente tenue dans les winches et self-tailing. En coloris naturel, il est particulièrement apprécié par les propriétaires de bateaux classiques et vieux gréements recherchant un cordage se rapprochant des fibres naturelles.

 Disponible en 5 coloris, afin de bien différencier chaque cordage du bateau.
Points forts :
Souplesse
Toucher coton très agréable en main
Bonne résistance au UV
Utilisation :
 Ecoute, cordage de manoeuvre, bout de controle, drisse sur bateau classique, vieux gréement
Construction :
Âme tressée 16 fuseaux en polyester
Gaine polyester discontinu 32 fuseaux 
|  Ø mm |  Ch. de rupture (kg)  |  Poids/m  |  Long max bobine  |
| --- | --- | --- | --- |
| 6 | 570 kg | 26 g | 220 m |
| 8 | 1200 kg | 37 g | 220 m |
| 10 | 1700 kg | 64 g | 110 m |
| 12 | 2300 kg | 88 g | 110 m |
| 14 | 2900 kg | 114 g | 110 m |
| 16 | 3400 kg | 159 g | 110 m |
Fabriqué en France
Référence selon coloris
|  Ø mm  |  Bleu  |  Rouge  |  Jaune  |  Noir  |  Naturel  |
| --- | --- | --- | --- | --- | --- |
| 6 | 51330 | 51332 | 51331 | 51329 | 51333 |
| 8 | 51335 | 51337 | 51336 | 51334 | 51338 |
| 10 | 51340 | 51342 | 51341 | 51339 | 51343 |
| 12 | 51345 | 51347 | 51346 | 51344 | 51348 |
| 14 | 51350 | 51352 | 51351 | 51349 | 51353 |
| 16 | 51355 | 51357 | 51356 | 51354 | 51358 |
Select
Price: low-to-high
Price: high-to-low
Product: In-stock
Image
Combination name
Reference
Price
Quantity
# MATT32

In stock

Available

# MATT32

Available

Stock available, Ship with in 3/5 days

# MATT32

In stock

Available

# MATT32

Available

Stock available, Ship with in 3/5 days

# MATT32

In stock

Available

# MATT32

In stock

Available

# MATT32

Available

Stock available, Ship with in 3/5 days

# MATT32

Available

Stock available, Ship with in 3/5 days

# MATT32

In stock

Available

# MATT32

Available

Stock available, Ship with in 3/5 days

# MATT32

Available

Stock available, Ship with in 3/5 days

# MATT32

Available

Stock available, Ship with in 3/5 days

# MATT32

Available

Stock available, Ship with in 3/5 days