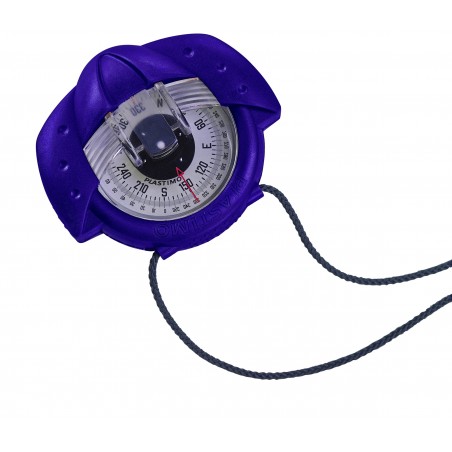  
Compass Iris 50 yellow

Product reference: 63873
Stock Available, Delivered within 4 to 6 days
Frais de port : 6,52€
Compass bearing IRIS 50. Exceptional readability of the rose
€96.00

By buying this product you can collect up to 8 point points. Your cart will total 8 points that can be converted into a voucher of €1.60.
Returns and exchanges within 45 days*
Free delivery from 99€ of purchase
And from €6.52 worldwide **
100% secure payment
With the Iris 50 compass marine and solid, robustness is more synonymous with austerity.

Warranty 5 years.

• Shock protection ; for a nice touch, it slips, even wet.
• Outstanding readability rose graduated degree in degree by a marking in screen printing of very high definition.
• Projection of graduation to infinity : This allows to avoid Parallax errors and significantly improves the comfort of reading; you won't need to switch near vision to read the rose and the vision to infinity for the bitter face.
• Optimum comfort during recovery, regardless of the State of the sea on account of the stability of the rose and the width of the field of vision of 20 °.
• Accuracy of bearing Thanks to the hardness of the pivot/pierre virtually insensitive to shocks and high-power couple.
• Fully flexible cell welded to the Ultrasonics to prevent any appearance of bubbles and the risk of leakage in time.
Illumination of built-in photoluminescent type, requiring no maintenance, insensitive to oxidation, running without battery or tritium radio-active.
• Reading of Cape on top, to understand the cap without looking through the Prism (as with a compass of road).

Features:

• Compass bearing and orientation.
• Graduation: all 1 °.
• Field of view: 20 °.
• Deflection: ± 12 °.
• Photoluminescent lighting.
• Red azimuth reading devices.
• Weight: 105 g.


Select
Price: low-to-high
Price: high-to-low
Product: In-stock
Image
Combination name
Reference
Price
Quantity
# 63873

Available

Stock Available, Delivered within 4 to 6 days

# 63599

Available

Stock Available, Delivered within 4 to 6 days

# 63603

Available

Stock Available, Delivered within 4 to 6 days

# 63871

Available

Stock Available, Delivered within 4 to 6 days

# 63870

Available

Stock Available, Delivered within 4 to 6 days

# 38181

Available

Stock Available, Delivered within 4 to 6 days

# 24049

Available

Stock Available, Delivered within 4 to 6 days

# 21809

Available

Stock Available, Delivered within 4 to 6 days