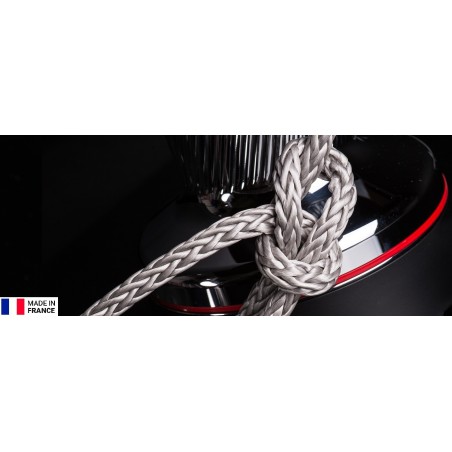  
Dynalight - COUSIN - CT13

Product reference: CT0013-3-G-HMPE
Available
Frais de port : 6,52€
The Dynalight features a breaking strength close to steel. Very supple and very stable under load, it shows a great resistance to fatigue, flexing and abrasion.
€0.62

No reward points for this product.
Returns and exchanges within 45 days*
Free delivery from 99€ of purchase
And from €6.52 worldwide **
100% secure payment
Le Dynalight a une forte résistance, proche de celle de l'acier, c'est véritablement un cable synthétique. Très souple et très stable sous charge, elle possède une excellente tenue à la fatigue, aux flexions et à l'abrasion. Elle est très appréciée pour sa légèreté et sa souplesse par rapport au traditionnel cable acier ou inox. La tresse dynalight évite également le danger du coup de fouet en cas de rupture et les saletés dûe à la rouille. Le seul inconvénient est sa moins bonne résistance aux frottements qu'un cable acier, mais une protection avec une surgaine sur les zones les plus sollicités vous évitera ce problème. 
Livrable en grande longueurs avec différentes finition sur demande.
Points forts :
Easy and quick to splice. Easy to repair
High resistance for low elongation
Lightweight and floating, it is easier to handle than a steel cable
The HMPE version is very good value for money, the version most used for all current work on a boat (cruising halyard, downhaul, strop, textile shackle, erse, slings, lashing and recovery bracing effort, trailer winch)
The PRO SK78 version offers very low creep (racing halyard, backstay, backstay)
The SK99 version offers the highest tensile strength
Utilisation :
Heavy load handling, soft shackles, lashing, straps, spinnaker guys or halyards. Extra cover is easy to fit and recommended on areas working with clutches, winches...
Construction :
12 plait HMPE (High Modulus Polyethylene), Dyneema® SK78 or Dyneema® SK99 braid with PU coating for wear protection.Fabriqué en France
Coloris :


Dynalight HMPE:

Dynalight Pro SK78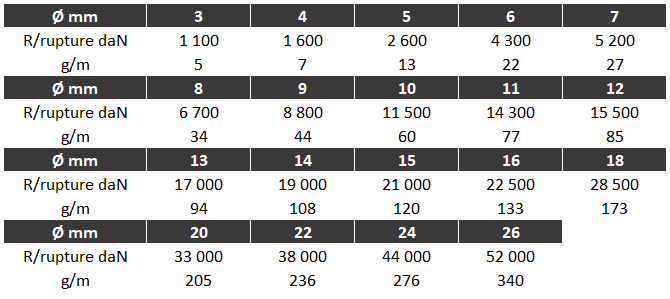 Dynalight PRO SK99

                
Select
Price: low-to-high
Price: high-to-low
Product: In-stock
Image
Combination name
Reference
Price
Quantity
# CT0013-3-G-HMPE

In stock

Available

# CT0013-3-O-HMPE

In stock

Available

# CT0013-4-G-HMPE

In stock

Available

# CT0013-4-O-HMPE

In stock

Available

# CT0013-6-G-HMPE

In stock

Available

# CT0013-6-O-HMPE

In stock

Available

# CT0013-8-G-HMPE

In stock

Available

# CT0013-8-O-HMPE

In stock

Available

# CT0013-12-G-HMPE

In stock

Available

# CT0013-12-O-HMPE

In stock

Available

# CT0013-14-G-HMPE

In stock

Available

# CT0013-14-O-HMPE

In stock

Available

# CT0013-16-G-HMPE

In stock

Available

# CT0013-16-O-HMPE

In stock

Available

# CT0013-18-G-HMPE

In stock

Available

# CT0013-18-O-HMPE

In stock

Available

# CT0013-20-G-HMPE

In stock

Available

# CT0013-20-O-HMPE

In stock

Available

# CT0013-22-G-HMPE

In stock

Available

# CT0013-22-O-HMPE

In stock

Available

# CT0013-24-G-HMPE

In stock

Available

# CT0013-24-O-HMPE

In stock

Available

# CT0013-10-G-HMPE

In stock

Available

# CT0013-10-O-HMPE

In stock

Available

# CT0013-5-G-HMPE

In stock

Available

# CT0013-5-O-HMPE

In stock

Available

# CT0013-26-G-HMPE

In stock

Available

# CT0013-26-O-HMPE

In stock

Available

Matériau : Dyneema Pro SK78

# CT001A-3-G-SK78

In stock

Available

Matériau : Dyneema Pro SK78

# CT001A-4-G-SK78

In stock

Available

Matériau : Dyneema Pro SK78

# CT001A-6-G-SK78

Available

Stock available, Ship with in 3/5 days

Matériau : Dyneema Pro SK78

# CT001A-8-G-SK78

In stock

Available

Matériau : Dyneema Pro SK78

# CT001A-12-G-SK78

In stock

Available

Matériau : Dyneema Pro SK78

# CT001A-14-G-SK78

In stock

Available

Matériau : Dyneema Pro SK78

# CT001A-16-G-SK78

In stock

Available

Matériau : Dyneema Pro SK78

# CT001A-18-G-SK78

In stock

Available

Matériau : Dyneema Pro SK78

# CT001A-20-G-SK78

In stock

Available

Matériau : Dyneema Pro SK78

# CT001A-22-G-SK78

In stock

Available

Matériau : Dyneema Pro SK78

# CT001A-24-G-SK78

In stock

Available

Matériau : Dyneema Pro SK78

# CT001A-10-G-SK78

In stock

Available

Matériau : Dyneema Pro SK78

# CT001A-5-G-SK78

In stock

Available

Matériau : Dyneema Pro SK78

# CT001A-26-G-SK78

In stock

Available

Matériau : Dyneema Pro SK99

# CT001SK99-3-G

In stock

Available

Matériau : Dyneema Pro SK99

# CT001SK99-4-G

In stock

Available

Matériau : Dyneema Pro SK99

# CT001SK99-6-G

In stock

Available

Matériau : Dyneema Pro SK99

# CT001SK99-8-G

In stock

Available

Matériau : Dyneema Pro SK99

# CT001SK99-12-G

Available

Stock available, Ship with in 3/5 days

Matériau : Dyneema Pro SK99

# CT001SK99-14-G

Available

Stock available, Ship with in 3/5 days

Matériau : Dyneema Pro SK99

# CT001SK99-16-G

Available

Stock available, Ship with in 3/5 days

Matériau : Dyneema Pro SK99

# CT001SK99-18-G

Available

Stock available, Ship with in 3/5 days

Matériau : Dyneema Pro SK99

# CT001SK99-20-G

Available

Stock available, Ship with in 3/5 days

Matériau : Dyneema Pro SK99

# CT001SK99-22-G

Available

Stock available, Ship with in 3/5 days

Matériau : Dyneema Pro SK99

# CT001SK99-24-G

Available

Stock available, Ship with in 3/5 days

Matériau : Dyneema Pro SK99

# CT001SK99-10-G

In stock

Available

Matériau : Dyneema Pro SK99

# CT001SK99-5-G

Available

Stock available, Ship with in 3/5 days

Matériau : Dyneema Pro SK99

# CT001SK99-26-G

Available

Stock available, Ship with in 3/5 days

Matériau : Dyneema Pro SK99

# CT001SK99-9-G

Available

Stock available, Ship with in 3/5 days

# CT0013-2.5-G-HMPE

Available

Stock available, Ship with in 3/5 days

Matériau : Dyneema Pro SK99

# CT0013-2-G-SK99

Available

Stock available, Ship with in 3/5 days

# TLS-500-2

Available

Stock available, Ship with in 3/5 days