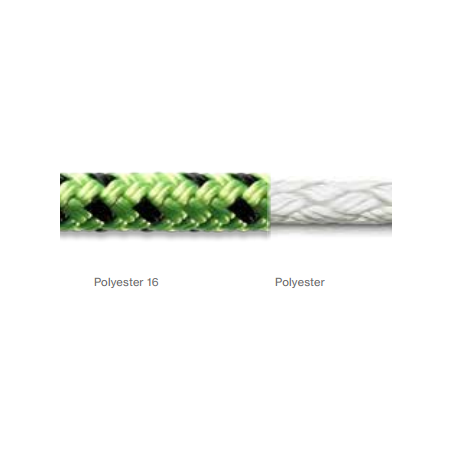  
ORION - ROBLINE

Product reference: GI-FOR500
Stock available, Ship with in 3/5 days
Frais de port : 6,52€
Ø4 to 14mm - Cross over polyester double braid rope for cruising/pleasure, usable everywhere on boat

Available in 8 colors to clearly organize and differentiate each rope.
€0.46

No reward points for this product.
Returns and exchanges within 45 days*
Free delivery from 99€ of purchase
And from €6.52 worldwide **
100% secure payment
Bout basique polyvalent pour une utilisation en loisir et croisière à tous les postes avec des coloris fun et bigarrés pour mettre un peu de couleur sur votre bateau.
ORION is a cross over rope. This rope is flexible and resistant, which allows to use it anywhere on a pleasure boat: halyard, sheet, downhaul, reef line
The 8 colors allow you to differentiate each ropes. A very pleasant touch, a very appreciated softness.
Easy to splice, it's easy to have 100% of its breaking load.
Advantages :
Very supple, it is comfortable to handle
Good UV and abrasion resistance
Use :
Cruising - Sheets, halyard,downhauls,uphauls..... 
Construction :
Core:  8 plaits braided of polyester.

Cover : 16 plaits braided of polyeste

r
| | | | | | | | | |
| --- | --- | --- | --- | --- | --- | --- | --- | --- |
|  Ø (mm) | 2 | 3 | 4 | 5 | 6 | 8 | 10 | 12 |
| Weight (g/m) | 3 | 6 | 12 | 19 | 24 | 41 | 70 | 89 |
| Minimum Breaking Load (kg) | 70 | 150 | 400 | 600 | 800 | 1400 | 2000 | 2500 |
Made in Czech Republic
            
Select
Price: low-to-high
Price: high-to-low
Product: In-stock
Image
Combination name
Reference
Price
Quantity
# GI-FOR500

Available

Stock available, Ship with in 3/5 days

# GI-FOR500

Available

Stock available, Ship with in 3/5 days

# GI-FOR500

In stock

Available

# GI-FOR500

Available

Stock available, Ship with in 3/5 days

# GI-FOR500

In stock

Available

# GI-FOR500

Available

Stock available, Ship with in 3/5 days

# GI-FOR500

Available

Stock available, Ship with in 3/5 days

# GI-FOR500

In stock

Available

# GI-FOR500

Available

Stock available, Ship with in 3/5 days

# GI-FOR500

Available

Stock available, Ship with in 3/5 days

# GI-FOR500

Available

Stock available, Ship with in 3/5 days

# GI-FOR500

Available

Stock available, Ship with in 3/5 days

# GI-FOR500

Available

Stock available, Ship with in 3/5 days

# GI-FOR500

Available

Stock available, Ship with in 3/5 days

# GI-FOR500

In stock

Available

# GI-FOR500

Available

Stock available, Ship with in 3/5 days

# GI-FOR500

Available

Stock available, Ship with in 3/5 days

# GI-FOR500

In stock

Available

# GI-FOR500

In stock

Available

# GI-FOR500

In stock

Available

# GI-FOR500

Available

Stock available, Ship with in 3/5 days

# GI-FOR500

Available

Stock available, Ship with in 3/5 days

# GI-FOR500

Available

Stock available, Ship with in 3/5 days

# GI-FOR500

Available

Stock available, Ship with in 3/5 days

# GI-FOR500

Available

Stock available, Ship with in 3/5 days

# GI-FOR500

Available

Stock available, Ship with in 3/5 days

# GI-FOR500

In stock

Available

# GI-FOR500

In stock

Available

# GI-FOR500

Available

Stock available, Ship with in 3/5 days

# GI-FOR500

Available

Stock available, Ship with in 3/5 days

# GI-FOR500

Available

Stock available, Ship with in 3/5 days

# GI-FOR500

In stock

Available

# GI-FOR500

Available

Stock available, Ship with in 3/5 days

# GI-FOR500

Available

Stock available, Ship with in 3/5 days

# GI-FOR500

In stock

Available

# GI-FOR500

Available

Stock available, Ship with in 3/5 days

# GI-FOR500

Available

Stock available, Ship with in 3/5 days

# GI-FOR500

Available

Stock available, Ship with in 3/5 days

# GI-FOR500

In stock

Available

# GI-FOR500

In stock

Available

# GI-FOR500

In stock

Available

# GI-FOR500

In stock

Available

# GI-FOR500

Available

Stock available, Ship with in 3/5 days

# GI-FOR500

In stock

Available

# GI-FOR500

Available

Stock available, Ship with in 3/5 days

# GI-FOR500

Available

Stock available, Ship with in 3/5 days

# GI-FOR500

In stock

Available

# GI-FOR500

Available

Stock available, Ship with in 3/5 days

# GI-FOR500

Available

Stock available, Ship with in 3/5 days

# GI-FOR500

Available

Stock available, Ship with in 3/5 days

# GI-FOR500

In stock

Available

# GI-FOR500

Available

Stock available, Ship with in 3/5 days

# GI-FOR500

Available

Stock available, Ship with in 3/5 days

# GI-FOR500

In stock

Available

# GI-FOR500

Available

Stock available, Ship with in 3/5 days

# GI-FOR500

Available

Stock available, Ship with in 3/5 days

# GI-FOR500

In stock

Available

# GI-FOR500

In stock

Available

# GI-FOR500

Available

Stock available, Ship with in 3/5 days

# GI-FOR500

Available

Stock available, Ship with in 3/5 days

# GI-FOR500

Available

Stock available, Ship with in 3/5 days

# GI-FOR500

In stock

Available

# GI-FOR500

Available

Stock available, Ship with in 3/5 days

# GI-FOR500

In stock

Available

# GI-FOR500

Available

Stock available, Ship with in 3/5 days

# GI-FOR500

In stock

Available

# GI-FOR500

Available

Stock available, Ship with in 3/5 days

# GI-FOR500

In stock

Available

# GI-FOR500

In stock

Available

# GI-FOR500

In stock

Available

# GI-FOR500

In stock

Available

# GI-FOR500

In stock

Available

# GI-FOR500

In stock

Available

# GI-FOR500

Available

Stock available, Ship with in 3/5 days

# GI-FOR500

Available

Stock available, Ship with in 3/5 days

# GI-FOR500

In stock

Available

# GI-FOR500

In stock

Available

# GI-FOR500

Available

Stock available, Ship with in 3/5 days

# GI-FOR500

Available

Stock available, Ship with in 3/5 days

# GI-FOR500

Available

Stock available, Ship with in 3/5 days

# GI-FOR500

Available

Stock available, Ship with in 3/5 days

# GI-FOR500

Available

Stock available, Ship with in 3/5 days

# GI-FOR500

Available

Stock available, Ship with in 3/5 days

# GI-FOR500

Available

Stock available, Ship with in 3/5 days

# GI-FOR500

In stock

Available

# GI-FOR500

Available

Stock available, Ship with in 3/5 days

# GI-FOR500

Available

Stock available, Ship with in 3/5 days

# GI-FOR500

Available

Stock available, Ship with in 3/5 days

# GI-FOR500

Available

Stock available, Ship with in 3/5 days

# GI-FOR500

Available

Stock available, Ship with in 3/5 days

# GI-FOR500

Available

Stock available, Ship with in 3/5 days

# GI-FOR500

In stock

Available

# GI-FOR500

Available

Stock available, Ship with in 3/5 days

# GI-FOR500

In stock

Available

# GI-FOR500

Available

Stock available, Ship with in 3/5 days

# GI-FOR500

Available

Stock available, Ship with in 3/5 days

# GI-FOR500

In stock

Available

# GI-FOR500

Available

Stock available, Ship with in 3/5 days

# GI-FOR500

In stock

Available

# GI-FOR500

In stock

Available

# GI-FOR500

Available

Stock available, Ship with in 3/5 days

# GI-FOR500

Available

Stock available, Ship with in 3/5 days

# GI-FOR500

In stock

Available

# GI-FOR500

In stock

Available

# GI-FOR500

Available

Stock available, Ship with in 3/5 days

# GI-FOR500

Available

Stock available, Ship with in 3/5 days

# GI-FOR500

Available

Stock available, Ship with in 3/5 days

# GI-FOR500

Available

Stock available, Ship with in 3/5 days

# GI-FOR500

Available

Stock available, Ship with in 3/5 days

# GI-FOR500

Available

Stock available, Ship with in 3/5 days

# GI-FOR500

Available

Stock available, Ship with in 3/5 days

# GI-FOR500

Available

Stock available, Ship with in 3/5 days

# GI-FOR500

Available

Stock available, Ship with in 3/5 days

# GI-FOR500

Available

Stock available, Ship with in 3/5 days

# GI-FOR500

Available

Stock available, Ship with in 3/5 days

# GI-FOR500

Available

Stock available, Ship with in 3/5 days

# GI-FOR500

In stock

Available