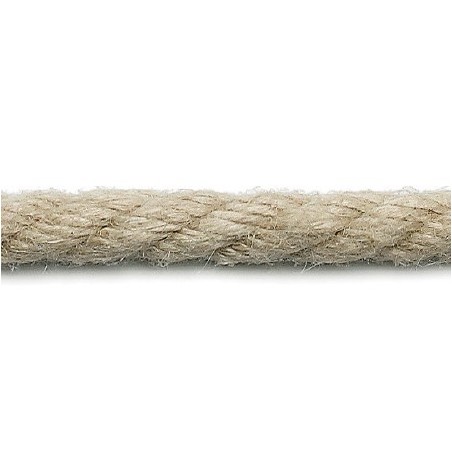  
CLASSIC TEX - ROBLINE

Product reference: ROB-MBCT03
Available
Frais de port : 6,52€
Classic-Tex looks like a traditional rope but behaves like a state-of-the-art yachting rope. Its benefits include a long service life and low stretch.
€0.55

No reward points for this product.
Returns and exchanges within 45 days*
Free delivery from 99€ of purchase
And from €6.52 worldwide **
100% secure payment
Classic-Tex excels due to a long service life, low stretch, and zero water absorption. The cordage with its traditional appearance can be used as a sheet, in tackles, as a multi-purpose rope, and for decorative purposes.
| Diameter [mm] | Length [m] | Weight [g/m] | MBL [daN] |
| --- | --- | --- | --- |
| 3 | 400 | 9 | 120 |
| 4 | 200 | 11 | 165 |
| 6 | 200 | 18 | 355 |
| 8 | 200 | 29 | 595 |
| 10 | 200 | 46 | 900 |
| 12 | 150 | 63 | 1340 |
| 14 | 100 | 85 | 1740 |
| 16 | 150 | 117 | 2180 |
| 22 | 100 | 190 | 4100 |
| 24 | 100 | 230 | 4830 |
| 30 | 50 | 390 | 5700 |
Select
Price: low-to-high
Price: high-to-low
Product: In-stock
Image
Combination name
Reference
Price
Quantity
# ROB-MBCT03

In stock

Available

# ROB-MBCT03

Available

Stock available, Ship with in 3/5 days

# ROB-MBCT03

In stock

Available

# ROB-MBCT03

Available

Stock available, Ship with in 3/5 days

# ROB-MBCT03

Available

Stock available, Ship with in 3/5 days

# ROB-MBCT03

In stock

Available

# ROB-MBCT03

In stock

Available

# ROB-MBCT03

Available

Stock available, Ship with in 3/5 days

# ROB-MBCT03

Available

Stock available, Ship with in 3/5 days

# ROB-MBCT03

Available

Stock available, Ship with in 3/5 days

# ROB-MBCT03

Available

Stock available, Ship with in 3/5 days