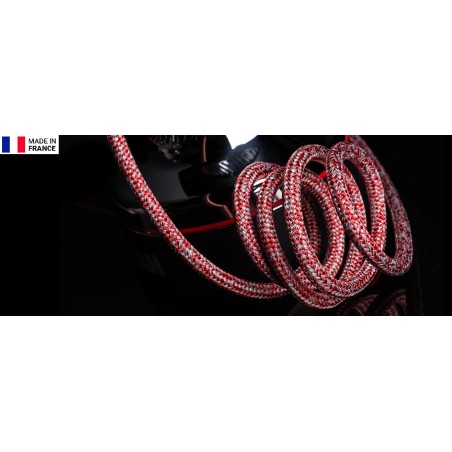  
Dynasty Pro polyester cover - COUSIN - CT613

Product reference: CT613-6-R
Available
Frais de port : 6,52€
The Dynasty Pro polyester cover is part of the Dyneestar family. It's PU coated cover allows easy tapering without inner cover. 
€4.21

No reward points for this product.
Returns and exchanges within 45 days*
Free delivery from 99€ of purchase
And from €6.52 worldwide **
100% secure payment
Dynasty Pro is the ultimate halyard for pro sailors, with a really high breaking load and good load stability. Its cover offer a really good grip in clutches and on winches.
The coated core allow to reduce easily diameter and win weight.
(≈ 1.6% of elongation at 50% MBL and 3.8% at breaking load for dynasty Ø12mm)
Advantages :
Easy to splice
High breaking load
Low elongation
Easy to remove cover du to coating and 24 plaits cover
Good resistance for cover
Uses :
Competition/offshore/world tour - Usable everywhere, DYNASTY is perfect for sailors looking for high resistance and low elongation
Construction :
Core : 12-plaits long-pitch pre stretch coated Dyneema® SK78 (Dynalight Pro SK78)
Cover : 24 plaits polyester

Colors :



Select
Price: low-to-high
Price: high-to-low
Product: In-stock
Image
Combination name
Reference
Price
Quantity

Color : Rouge chiné blanc

# CT613-6-R

In stock

Available

# CT613-6-B

In stock

Available

# CT613-6-V

In stock

Available

Color : Noire chiné blanc

# CT613-6-N

In stock

Available

Color : Rouge chiné blanc

# CT613-8-R

In stock

Available

# CT613-8-B

In stock

Available

# CT613-8-V

In stock

Available

Color : Noire chiné blanc

# CT613-8-N

In stock

Available

Color : Rouge chiné blanc

# CT613-12-R

In stock

Available

# CT613-12-B

In stock

Available

# CT613-12-V

In stock

Available

Color : Noire chiné blanc

# CT613-12-N

In stock

Available

Color : Rouge chiné blanc

# CT613-14-R

Available

Stock available, Ship with in 3/5 days

# CT613-14-B

Available

Stock available, Ship with in 3/5 days

# CT613-14-V

Available

Stock available, Ship with in 3/5 days

Color : Noire chiné blanc

# CT613-14-N

Available

Stock available, Ship with in 3/5 days

Color : Rouge chiné blanc

# CT613-16-R

Available

Stock available, Ship with in 3/5 days

# CT613-16-B

Available

Stock available, Ship with in 3/5 days

# CT613-16-V

Available

Stock available, Ship with in 3/5 days

Color : Noire chiné blanc

# CT613-16-N

Available

Stock available, Ship with in 3/5 days

Color : Rouge chiné blanc

# CT613-10-R

In stock

Available

# CT613-10-B

In stock

Available

# CT613-10-V

In stock

Available

Color : Noire chiné blanc

# CT613-10-N

In stock

Available