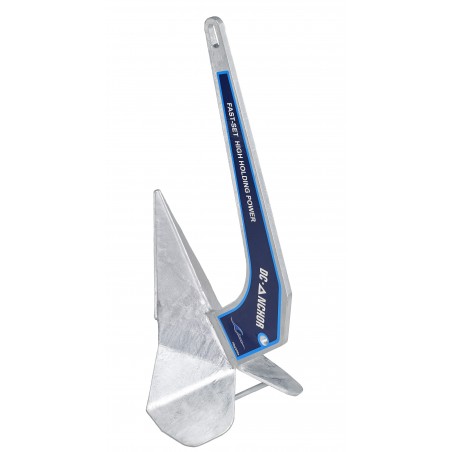  
Anchor DC - PLASTIMO - PL39140

Product reference: 63714
Stock available, Shipped in 3/5 days
Frais de port : 6,52€
Plough anchor with high holding power.
€86.45

By buying this product you can collect up to 7 point points. Your cart will total 7 points that can be converted into a voucher of €1.40.
Returns and exchanges within 45 days*
Free delivery from 99€ of purchase
And from €6.52 worldwide **
100% secure payment
The shaft shape and broad-shoulder flukes combined with a weighted tip contribute to a low gravity point, providing self launching performance and instant setting.
Adapts naturally to a bow roller.Marine grade alloy, hot dipped galvanised.
Yieldstrength 420 MPa.
Ref. 

B 

C

D

E

F

G

63714

303 mm 
230 mm 
16 mm 
35 mm 
8 

± 0,35 mm

32 mm 

63715

350 mm 
265 mm
16 mm
35 mm
10 

± 0,4 mm

32 mm

63716

410 mm
310 mm
19 mm
42 mm
12,1 - 13,5 mm
38 mm

63717

482 mm
632 mm
19 mm
42 mm
12,1 - 13,5 mm
44 mm

63718

518 mm
392 mm
24 mm
48 mm
16 

± 0,4 mm

48 mm

63719

558 mm
415 mm
24 mm
48 mm
16 

± 0,4 mm

52 mm

63720

603 mm
445 mm
26 mm
62 mm
18 

± 0,5 mm

56 mm

63721

665 mm
489 mm
24 mm
48 mm
20 

± 0,5 mm

52 mm

63722

695 mm
523 mm
24 mm
48 mm
20 

± 0,5 mm

52 mm

63723

760 mm
567 mm
28 mm
56 mm
22 

± 0,5 mm

60 mm
Select
Price: low-to-high
Price: high-to-low
Product: In-stock
Image
Combination name
Reference
Price
Quantity
# 63714

Available

Stock available, Shipped in 3/5 days

# 63715

Available

Stock available, Shipped in 3/5 days

# 63716

Available

Stock available, Shipped in 3/5 days

# 63717

Available

Stock available, Shipped in 3/5 days

# 63718

Available

Stock available, Shipped in 3/5 days

# 63719

Available

Stock available, Shipped in 3/5 days

# 63720

Available

Stock available, Shipped in 3/5 days

# 63721

Available

Stock available, Shipped in 3/5 days

# 63722

Available

Stock available, Shipped in 3/5 days

# 63723

Available

Stock available, Shipped in 3/5 days