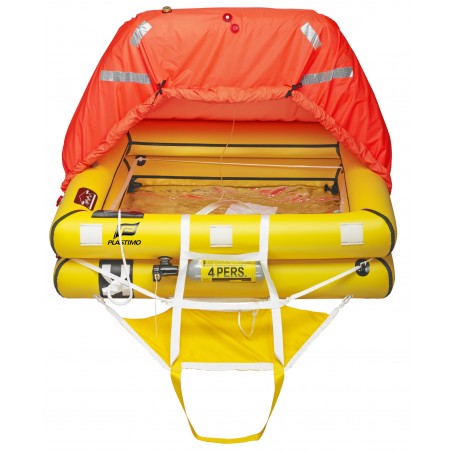  
Raft offshore Transocéan 4 seats

Product reference: PL52161
Stock available, Ship with in 3/5 days
Frais de port : 6,52€
Liferaft Plastimo ISO 9650 for offshore navigation.
A revision is required every 3 years and 15 years valid rafts.
€1,387.32

By buying this product you can collect up to 115 point points. Your cart will total 115 points that can be converted into a voucher of €23.00.
Returns and exchanges within 45 days*
Free delivery from 99€ of purchase
And from €6.52 worldwide **
100% secure payment
CHARACTERISTICS
Raft of new generation, from the standard ISO 9650. C\\\' is the new regulatory model required for any offshore navigation.

Designed for extreme d\\\ conditions' use: number and important volume of the pockets to water, anchor life of large-area, swelling to-15 ° C, double insulated bottom, fluo orange tent with automatic inflatable headband, lamp outdoor 4.3 cd, band radarisables and retro-reflective.

The raft Transocéan ISO 9650-1 is also equipped with d\\\' a reversible scale ballasted and d\\\ 'a handle to facilitate l\\\' boarding: this system allows the Castaway to easily switch in the life raft after taking position on l\\\' scale.

In the case of capsize, l\\\ 'scale d\\\' boarding switches and positioned so that the Castaway back on the raft returned, thereby facilitating its recovery.

Two type d\\\ armaments are proposed based on the time that the Castaway is likely to pass in the life raft before d\\\ be rescued: a complete weapons including water and food (expectation of relief estimated to be more than 24 hours) or light weapons (expectation of relief estimated within 24 hours).
Select
Price: low-to-high
Price: high-to-low
Product: In-stock
Image
Combination name
Reference
Price
Quantity
# PL52161

Available

Stock available, Ship with in 3/5 days

# PL52163

Available

Stock available, Ship with in 3/5 days

# PL52162

Available

Stock available, Ship with in 3/5 days

# PL52176

Available

Stock available, Ship with in 3/5 days

# PL52380

Available

Stock available, Ship with in 3/5 days

# PL52388

Available

Stock available, Ship with in 3/5 days

# PL52381

Available

Stock available, Ship with in 3/5 days

# PL52389

Available

Stock available, Ship with in 3/5 days

# PL52382

Available

Stock available, Ship with in 3/5 days

# PL52390

Available

Stock available, Ship with in 3/5 days

# PL52383

Available

Stock available, Ship with in 3/5 days

# PL52391

Available

Stock available, Ship with in 3/5 days

# PL52384

Available

Stock available, Ship with in 3/5 days

# PL52392

Available

Stock available, Ship with in 3/5 days

# PL52385

Available

Stock available, Ship with in 3/5 days

# PL52393

Available

Stock available, Ship with in 3/5 days

# PL52387

Available

Stock available, Ship with in 3/5 days

# PL52395

Available

Stock available, Ship with in 3/5 days