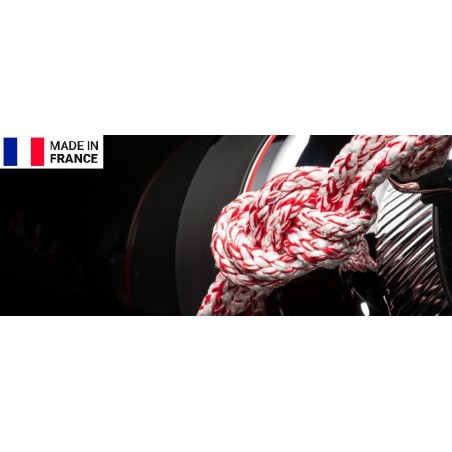  
Tribal - COUSIN - CT7510

Product reference: CT-751-6-V
Available
Frais de port : 6,52€
Ø6 to 10mm - Single braid sheet with a mix of dyneema and polyester. it's ideal for light and habitable sailing. Light and very very flexible, its cotton feel and its braiding give it a very good grip.
€1.85

No reward points for this product.
Returns and exchanges within 45 days*
Free delivery from 99€ of purchase
And from €6.52 worldwide **
100% secure payment
La Tribal rope is a very original sheet with an exceptional prehension. Its single braid construction with a mix of dyneema andspun dyed polyester, means a very flexible rope that holds well in the hand.
Ideal for forming a mainsail or spinnaker sheet that is permanently adjusted by hand on small units (dinghy, catamaran, dayboat). This string is not against not suitable for use on a self-tailing winch, but is perfectly suitable for spinnaker sheet in J80.
Advantages :
Very light and flexible
Very good grip in hand and on ratchet blocks

Easily spliceable

Easy to insert a tie / single braid insert for spinnaker sheet very easily
Use :
Mainsheet, jibs, spinnaker sheets for dinghies, sport catamarans, day-boats.
Ideal for listening to sport catamaran mainsail, J80, J70, other dayboat and sport keelboat
Construction :
16 plait braid, made of a blend of HMPE (high modulus polyethylene) and spun dyed polyester.

Colors :


Select
Price: low-to-high
Price: high-to-low
Product: In-stock
Image
Combination name
Reference
Price
Quantity

Color : Rouge chiné blanc

# CT7510-8-R

In stock

Available

# CT7510-8-B

Available

Stock available, Ship with in 3/5 days

Color : Rouge chiné blanc

# CT7510-10-R

Available

Stock available, Ship with in 3/5 days

# CT7510-10-B

Available

Stock available, Ship with in 3/5 days

# CT-751-6-N

Available

Stock available, Ship with in 3/5 days

# CT-751-6-V

In stock

Available